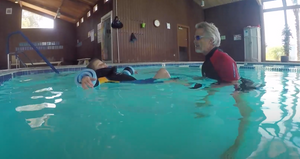 Physical Therapist Vince Newman Says, "Floater Is a Valuable Therapy Tool"
Vince Newman, a physical therapist for more than 35 years, says the Airtime Watertime Floater is a great therapeutic tool and swimming device.
"The great thing about the Floater wetsuit," Newman said, "is its simplicity. The suit has a simple design. It does a specific job. It's comfortable to wear. And it's easy to use in the water. You don't need any extra attachments."
Gustavo Ritterstein (left) works with physical therapist Vince Newman (right)
Physical therapy in the water, sometimes called aquatic therapy or aquatherapy, has become popular over the years because of the benefits of the water environment for treating injuries and disabilities. "Water is great for therapy because it provides equal parts support for the body so there is less stress on joints and resistance so people can develop more strength from their movements," said Newman.
Newman has specialized in aquatic therapy for over 20 years and helped all kinds of patients recover their strength and mobility in the water. "I've treated head trauma victims, stroke patients, sports injuries, people living with Parkinson's, children, and geriatrics. Some over 100 years old," said Newman.
He has even worked with recovering quadriplegic and Airtime Watertime spokesperson, Gustavo Ritterstein. While working with Ritterstein, Newman said, "He felt things he hasn't felt in a long time."
Newman sees many benefits of the Floater wetsuit for all people pursuing physical therapy in the water. "If you're not moving, you get cold lying in the water. For rehab purposes, the Floater not only keeps you warm like a regular wetsuit but also keeps you buoyant, providing expert support for the people who need it the most."
He also sees the suit as a fantastic swim aid. "For swimming, it's a great suit. Other swim aids, like flotation wings are cumbersome for the swimmer. But the Floater is not cumbersome, making it easier to swim and stay afloat."
Newman has been a consultant with Airtime Watertime from the company's start. Currently, he is helping the Airtime Watertime team improve the suit based on his feedback.
---