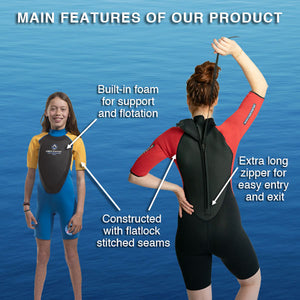 PRODUCT FEATURES
The Floater® is one of-a-kind personal flotation suit, combining buoyancy, flexibility, and protection.
It provides greater freedom of movement while solving the ongoing problem of water fatigue—allowing one the ability to rest without having to tread water.
Do you want to swim with the confidence of a seasoned swimmer?
Or enjoy any water activity with the security of knowing
you will stay above the water?
Airtime Watertime® Floater® is a new kind of flotation wetsuit that gives you the security and confidence to swim safely and freely, whether you're new to the water, an old pro, a para-swimmer or a swimmer with disabilities.
Airtime Watertime, Inc® introduces the Floater® a flotation suit with total comfort for the youngest to the oldest water enthusiast:
  •  Gives you total freedom of movement
  •  Swim faster
  •  Swim farther
  •  Or just rest on the water
  •  A perfect tool to assist in rehabilitation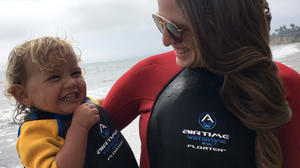 The Floatsuit of the Future™
x
Welcome to Airtime Watertime, Inc®
Floatsuit of the FutureTM
Get $10 off your next order
No thanks, just take me to the site