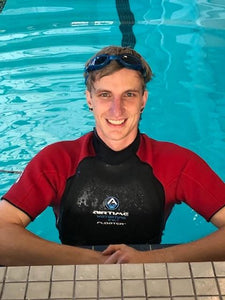 Injured Athlete Back to Gliding Through Water Thanks to Floater Wetsuit
Zack Wentz is having fun in the water again thanks to the Airtime Watertime Floater wetsuit. The flotation suit has allowed him to swim like he did before the injury that left him paralyzed from the chest down.
Before Wentz was injured, he was an active athlete. In competition, he always played tennis. "As a freshman, I was the MVP of a winning team," said Wentz.
Out of competition: "I did everything: ski, hike, swim. I would jump into lakes or swing from ropes into the water," said Wentz.
Then came his injury from a ski accident. Paralyzed from the chest down, he had to relearn how to move. While he was able to learn to play tennis again after 3 months of rehab in Denver, swimming remained a struggle.
"I couldn't kick to stay afloat, I had trouble with my core stability, and I was only able to do breaststroke," said Wentz.
Even so, he always participated at the annual Swim With Mike fundraiser for students with disabilities. However, he found spending extended time in the water was difficult. "I was always exhausted after reaching my lap goal," said Wentz.
Then everything changed when his father purchased an Airtime Watertime Floater wetsuit at the
L.A. Abilities Expo
in 2019. When Zack put on the floatation suit, he discovered he was no longer limited in how he could swim.
"Wearing the Floater, I could swim like I had no injury. I could do backstroke, freestyle, or just float on my stomach or my back," said Wentz.
The next time he participated at the annual Swim With Mike fundraiser, Zack wore the Floater and blew past his lap record. The year before he had done 16 laps. In 2019, his goal was 18 laps. "With the suit, I was able to do 26," said Wentz.
Now that he can swim with ease again, he is preparing to reach his goal of competing in the
2024 Summer Paralympics
in Paris. It won't be for swimming though. That's just for fun. He wants to be a medal-winning, quad-wheelchair tennis champion.
More About the Swim With Mike Foundation
Up until he graduated from USC (in August 2018), Zack was a recipient of a Swim With Mike scholarship. Swim With Mike provides scholarships and financial resources for injured and physically challenged athletes to realize their full potential. If you're interested in learning more about the foundation, please visit the
Swim With Mike
.
Read More Here
---