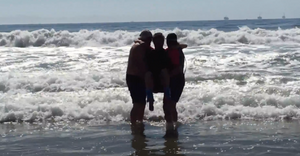 Recovering Quadriplegic Can Swim in the Ocean Again
Gustavo Ritterstein, a local disabled Santa Barbara man, can swim and feel normal again thanks to the Airtime Watertime® Floater®

The flotation suit helps disabled and handicapped to swim with support thanks to the patented design that adds buoyancy.
SANTA BARBARA, California, May 1, 2017. — Gustavo Ritterstein, a recovering quadriplegic and local Santa Barbara resident, can swim and feel normal again thanks to the Airtime Watertime® Floater® wetsuit.
"I'm very lucky, very happy to find out that I can use the Floater® as a perfect device for me to help in my rehabilitation process," said Ritterstein.
The flotation suit, designed by Airtime Watertime®, is a swim aid that allows swimmers, para-swimmers, and adaptive swimmers to swim with confidence because of the patented design that gives added buoyancy as if the person were floating in outer space.
Mark Okrusko, surfer-turned-inventor and founder of Airtime Watertime®, stated. "The suit was originally created to be a surfing aid, but the more I tested it, the more applications started to pop up, from recreational water use to therapy to helping the handicapped."
Ritterstein explained how the wetsuit design aids him. "Sometimes I just have a hard time holding myself up, to treading water, so with this, I don't need to do that."
Before his ATV accident in 2013 that initially left him quadriplegic, one of Ritterstein's greatest pleasures was to swim in the ocean. "Imagine what it is for a person who swims every day and not being able to do that for three years," said Ritterstein.
With the Floater®, Ritterstein can now tread water and swim confidently in the ocean like he used to do before his injury, even though he still cannot move his legs. "I talked to my therapist and he said it's the safest way to be in the ocean he knows," stated Ritterstein.
---