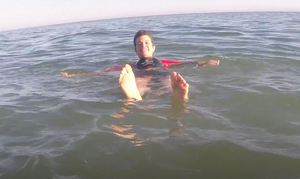 Floater Wetsuit Helps People Overcome Their Fear of Water
The article Floater Wetsuit Helps People Overcome Their Fear of Water was originally published on the Good News Network on Sept. 26, 2020.
----------------------------------------------------------------------------------------------

A wetsuit called the Floater is getting people in the water after decades of living in fear.
Traditionally, there are flotation belts, but they can be difficult to use with a tricky center of gravity that can leave the wearer face down. Life jackets often ride up on the neck and can be uncomfortable and bulky.

Donna Mudge, a resident of Santa Barbara, needed something special to conquer her fear. Now in her mid-fifties, she never learned to swim. "Every time I was swimming, I feared that I would sink. And when I panicked, I would sink," said Mudge.

Swimming lessons from a lifeguard friend did little to alleviate Mudge's fear. After one bad incident in the deep end during her swimming lessons, Mudge said, "I gripped the edge of the pool so tight, my friend couldn't get me to let go."

Since then, the flotation wetsuit by Airtime Watertime has taken away her doubts about swimming in deep water.

"I felt I could get in the water without someone watching me," said Mudge, who now has the confidence to go boogie boarding by herself for the first time ever.




Invented by surfer and entrepreneur Mark Okrusko, the Floater wetsuit keeps people buoyant with a patented flotation panel in the chest, which was first developed to give people confidence about being in the water.

"All wetsuits may look similar; however, the Airtime Watertime wetsuit stands, or floats, above the rest because of the added flotation in the front panel," said Okrusko.

Sandra Brodeur of Nashua, New Hampshire, has also overcome her fear of water. For as long as she can remember, Brodeur always feared not being able to touch the bottom, which made it difficult to learn to swim. "I tried everything—including private lessons, and could never get over the panic when I couldn't touch the bottom of a pool or ocean floor," said Brodeur.

Then her boyfriend, an avid sailor, wanted to take her to the British Virgin Islands for a sailing and snorkeling vacation. "He found the Floater wetsuit online and we ordered one. I felt so safe and confident at all times from the buoyancy of the suit that for the first time in my life I could relax in the water and enjoy it. At times, I was in 30-40 feet of water without fear! To me, that is a miracle." said Brodeur.

"People write to us all the time about how they can now do activities in the water they never felt confident to do before, from children to young adults to seniors," said Ruth Wishengrad, VP of the company.

The suit is also helping first-time snorkelers. Lisa Robinson, a resident of Los Angeles had never snorkeled before until she bought the Floater wetsuit. "I had my husband's 50th birthday coming up and I wanted so desperately to snorkel with him on his birthday trip in Hawaii," said Robinson.




It didn't take long for Robinson to gain confidence. "I practiced swimming in the suit for about 2 hours in the hotel pool. The next morning, I got on a boat all dressed in my Airtime Watertime floating suit with all the confidence of a seasoned swimmer. I jumped off the side of the boat into the Pacific Ocean and began to swim. It was the most beautiful life experience I have ever had."

Moreover, due to the Floater's buoyancy, Robinson feels she can enjoy all water activities without fear. "Because of the Airtime Watertime Floater, at 50 years old…I no longer have to sit on the edge of the pool and wish to be in the water. I can now enjoy the pool in my backyard and share the experience of snorkeling with my husband. Because of this suit, my life has been changed forever…I feel like water is no longer a limitation for me."

"To swim or not to swim" that WAS the question.

The Airtime Watertime floater is sold at their website, and you can use a coupon code GNN2020 for a 10% discount on your order.

WATCH the company video…
---