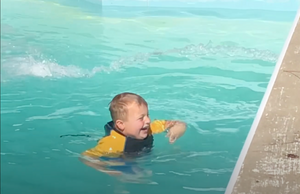 Autistic Child Can Swim With Joy Using Airtime Watertime Floater Wetsuit
Buying an Airtime Watertime Floater suit for six-year-old Bobby has changed the lives of his parents and grandmother for the better. Due to his autism, Bobby is minimally verbal. Therefore, communicating the dangers of water to Bobby has been difficult and his family had always been worried about his safety in the pool. 

To find peace of mind, his grandmother, Rhonda Taylor and Bobby's parents searched everywhere for a swim aid that would allow Bobby to enjoy "his happy place" in the pool. Nothing they found allowed Bobby to enjoy the water until they discovered the Airtime Watertime Floater suit.

After Taylor purchased a Floater wetsuit for Bobby, the family felt like they could relax. They didn't have to worry about Bobby sinking under the water.  "He would pop right back up so we didn't have to worry about him getting in over his head," Taylor said.

The Floater suit has also allowed Bobby to swim with ease and confidence. Taylor explained, "He's actually really swimming now. [The Floater suit] allows him to become more horizontal with the water rather than most of the other products which give you a vertical placement in the water.

If you would like to learn more about Bobby or see him with the suit in the water, check out this video .
---