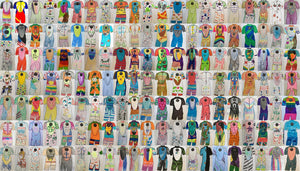 Vote for the Most Creative Airtime Watertime Floater Suit Designs
Airtime Watertime wishes to inspire young people to be creative through design contest

Vote to choose the most creative Floater suit designs from over 140 designs.
SANTA BARBARA, California, May 9, 2017. — You can help choose the best Floater design and inspire a young child's creativity. Airtime Watertime is hosting an online voting contest to help choose the most creative designs for a Floater suit.
"At Airtime Watertime, we are devoted to inspiring human potential on all levels," said Mark Okrusko, Owner of Airtime Watertime and surfer-turned-inventor of the Floater. "We want to encourage children to use their skills as artists and designers."
Kids aged 6-12 from all over the world sent in their most creative designs with the chance to win a flotation suit. Airtime Watertime received over 140 submissions, coming from 3 continents.
"We want kids, their families, their friends to tell everyone to vote for their favorite design," Okrusko said. "Everyone you tell is a vote."
The top 30 designs, based on the number of votes, will move on to the final round from which the winners will be chosen.
"We got an overwhelming response," said Ruth Wishengrad, VP at Airtime Watertime. "There are so many great designs. That's why we want voters to help us to narrow down the choices."
To vote on your favorite designs, go to https://www.airtimewatertime.com/contest. Voters can vote once a day, on any number of entries, until the contest ends on Sunday, May 21 at 11:59 p.m PDT.
---