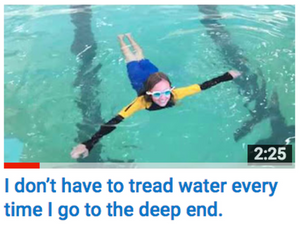 Kids Can Win Flotation Suit in Airtime Watertime Design Contest
Airtime Watertime has announced a contest for kids aged 6-12 to create a new design for their kid Floater® suit.

Winners of the contest will win a kid Floater™ suit and have their winning design used as a template for the new line of Floater suits for kids.
SANTA BARBARA, California, April 11, 2017 — Creative kids can win a flotation suit and become real fashion designers by dreaming up a new design for the revolutionary Floater® suit in a contest hosted by the suit producer, Airtime Watertime®, and the Santa Barbara Independent.
"We are making it fun for young kids to design the art/graphics of a wetsuit," said Mark Okrusko, surfer-turned-inventor and founder of
Airtime Watertime®
. "The campaign is focused on helping the human potential."
The
Airtime Watertime® Floater®
 is a new kind of wetsuit that adds buoyancy to a swimmer and allows people of all ages to enjoy a truly new and unique water experience. "It helps kids and adults have the confidence in swimming while also reducing our environmental impact on the reefs of the world," said Okrusko.
With the aid of the flotation suit, swimmers can go faster, farther, or even just rest on the water above a reef due to the innovative new design that provides extra support and flotation ability.
To participate in the contest, kids must be between the ages of 6-12 and have a parent or guardian agree to the contest terms. All entries must be postmarked by Thursday, April 27 to be eligible.
For more details and to participate in the design contest, go to
To see the suit in action, go to
Airtime Watertime® is a company devoted to inspiring human potential. Our mission is to help people with innovative solutions and make informed choices to improve the planet and their lives socially and environmentally.
The purpose is to produce the highest quality products through trust, support, integrity, and mutual respect.
Airtime Watertime®
is committed to building its products to support the people and our planet for generations to come.
Airtime Watertime® has designed the Floater®, a flotation suit, to provide a totally new level of comfort, confidence and freedom to all who wish to enjoy water.
info@AirtimeWatertime.com
---