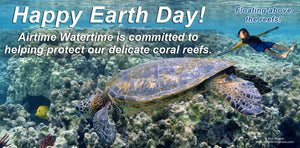 Happy Earth Day from Airtime Watertime
At Airtime Watertime, we're celebrating the 50th anniversary of Earth Day by reaffirming our commitment to safeguarding the oceans and protecting delicate coral reefs everywhere.
Not only does the Floater wetsuit help you swim with more support, it also helps protect the reefs by allowing you to float above them. It also provides greater freedom of movement while solving the ongoing problem of water fatigue - allowing one the ability to rest without having to tread water.
From all of us at Airtime Watertime, have a happy and healthy Earth Day.
---