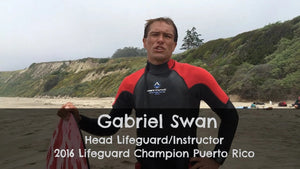 Drowning Crisis on Puerto Rico Beaches
At no-swim beaches, volunteer lifeguards save a drowning person every 3.5 days

Head lifeguard and SoCal native Gabriel Swan has saved more than 300 lives 

 
SANTA BARBARA, California, May 22, 2017. — There is a drowning crisis in Puerto Rico. At Condado Beach, a favorite tourist destination, there is at least one drowning every 3.5 days, according to volunteer lifeguards. "On a busy day," head lifeguard Gabriel Swan said, "we can have 5 drownings."
Originally from California, competitive lifeguard champion Gabriel Swan grew up surfing, skimboarding and lifeguarding at Silver Strand Beach in Oxnard. It was his competitive surfing and skimboarding that first took Swan to Puerto Rico and Condado Beach, one of the most dangerous beaches for swimmers in San Juan.
Swan said, "Technically, this is a high surf, no-swim beach, so there are no lifeguards. But there are hotels on the beach, and a party atmosphere, and people swim even though they shouldn't."
Sensing a need, on his own initiative Swan formed the volunteer lifeguard association Surfers 2 the Rescue to protect local swimmers and tourists. Since it is a no swim beach, there is no funding for the organization, and the lifeguards all work regular jobs in addition to saving lives. The organization survives thanks to local donations.
In his 15 years as a competitive lifeguard, Gabriel Swan states estimates he has rescued more than 300 people.
Swan's reputation for volunteer lifeguarding has spread as far as India, where he will soon be consulting on how to create a volunteer lifeguard initiative on some of the dangerous beaches near Goa.
Swan also serves as a tester for ocean rescue technology. Recently, he was in Santa Barbara, California where he consulted with Airtime Watertime®, testing the new Floater™ suit. Swan said the new flotation suit is going to change the whole rescue game because "you can swim twice as fast with half the energy."
To learn more about Gabriel Swan, check out his podcast Good Lifeguard Radio.
---