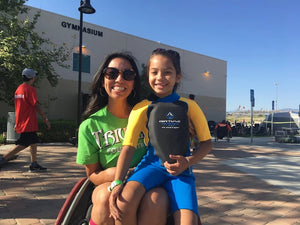 Airtime Watertime Helps Bring Families Together at the Wheelchair Sports Festival
SANTA BARBARA, California, April 30, 2018—Airtime Watertime provides an opportunity for families to play together in the water as part of the overall theme of the Triumph Foundation's Wheelchair Sports Festival in Santa Clarita, which took place on Saturday, April 28.
"The great thing about the Airtime Watertime Floater™," said Ruth Wishengrad, Vice President of Airtime Watertime, "is that it allows families to play together again. And that's one of our goals. To bring all family members together to enjoy water activities."
Airtime Watertime is the maker of the one-of-a-kind Floater wetsuit, one of the six types of wetsuits that are changing water sports. This wetsuit is built with a patented foam panel, sewn in the chest, that allows the swimmer to stay buoyant, similar to a personal flotation device, and with the flexibility of a wetsuit.
"When you wear the wetsuit," said Mark Okrusko, Founder and Owner of Airtime Watertime, "you have the freedom of movement to swim, and you also have the security of a flotation device so you can stay afloat without having to tread water."
The goal of the Wheelchair Sports Festival was to allow families to play together in adapted sports and games. One of the many challenges of having a family member in a wheelchair is finding activities the whole family can do together.
At the event, run by the Triumph Foundation, able-bodied and disabled family members alike played adapted sports, including wheelchair hockey, basketball, racquetball, baseball, quad rugby (a.k.a. murderball), hand cycling, adapted scuba, wheelchair skating (WCMX), and a power wheelchair rodeo.
"Our hope is that families will swim together using the Floater wetsuit," added Wishengrad. "People with disabilities say that when they wear a Floater wetsuit in the water, you can't tell they have a disability. They can float and swim just like everyone else."
For more information on the Wheelchair Sports Festival, visit https://triumph-foundation.org/adaptive-recreation/
About the Triumph Foundation
The Triumph Foundation is a 501(c)(3) non-profit organization whose mission is to help individuals with Spinal Cord Injury (SCI) to triumph over their disability and to inspire them to keep moving forward with their lives by pushing themselves to get better every day. The Triumph Foundation works to minimize the obstacles that one faces after suffering a Spinal Cord Injury. The Triumph Foundation provides resources, hope and security to people living with paralysis – not just initially when the injury occurs, but as a lifelong support network. Additionally, they hold events that are a captivating force within the entire community. They are the go-to organization for people living with mobility impairments in Southern California.
About Airtime Watertime
Airtime Watertime® is a wetsuit company based in Santa Barbara, CA focused on innovative solutions to improve the lives of water enthusiasts and help protect water environments for generations to come. Airtime Watertime is best known for the Floater™, a one-of-kind wetsuit that combines the buoyancy of a personal flotation device with the flexibility and protection of a wetsuit, producing a water experience like no other.
For more information on the Airtime Watertime floater wetsuit, please visit https://www.airtimewatertime.com
---